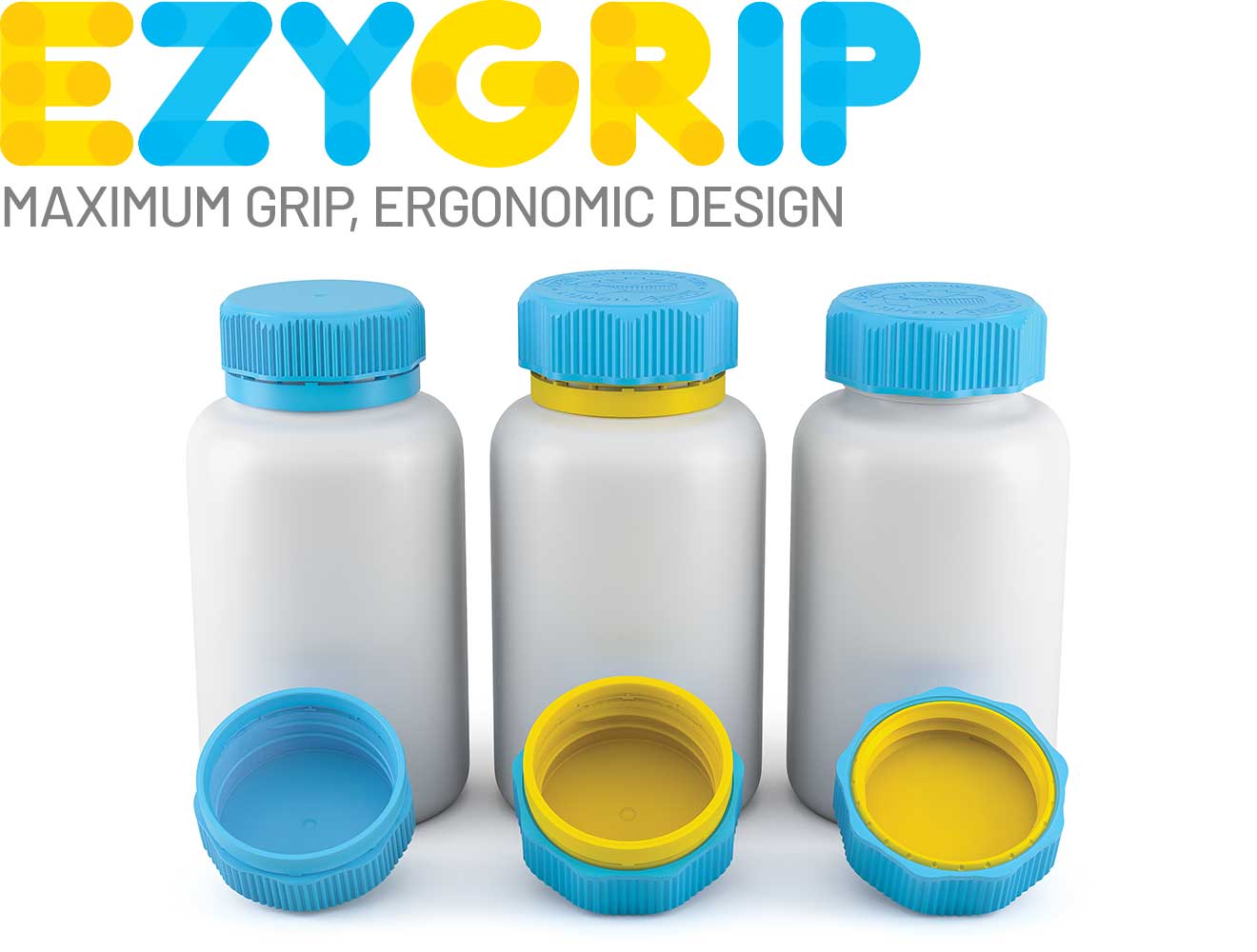 Easy to grip, ergonomic design and child-safe.
Thanks to medical and scientific achievements, more of us enjoy good health as we age, with longer more fruitful lives and a more active lifestyle. Consequently, we are experiencing a global trend where national populations are ageing, and a growing number of consumers suffer reduced hand strength and dexterity. Our senior population would benefit from a better ergonomic design that makes opening a product easier.
EzyGrip features large evenly distributed side lobes enhanced with mini surface ribs to improve hand grip over the standard cap significantly, reducing hand and wrist strain and allowing the adult consumer to get what they need with ease. While the enhanced grip design makes opening easy, EzyGrip can be integrated with our leading child-resistant closure design, resulting in a safer product, especially in the application of prescription medicine and hazardous substances.
EzyGrip has optional additional safety, hygiene and sustainability functions such as tamper-evident seals and advanced additive technology like BioShield™, EnviroShield™ and Oysterlean™.
EzyGrip's "senior-friendly" design methodology gives seniors easy access while providing safety, health and sustainability benefits to our community through additive technology.
EzyGrip 38TE

Size: 38mm
Finish: 400
Tamper-evident
Seal: Cellular Foam, Induction Foil

EzyGrip 38CRTE

Size: 38mm
Finish: 400
Child-Resistance with TE
Seal: Cellular Foam, Induction Foil

EzyGrip 38CRC

Size: 38mm
Finish: 400
Child-Resistance
Seal: Cellular Foam, Induction Foil