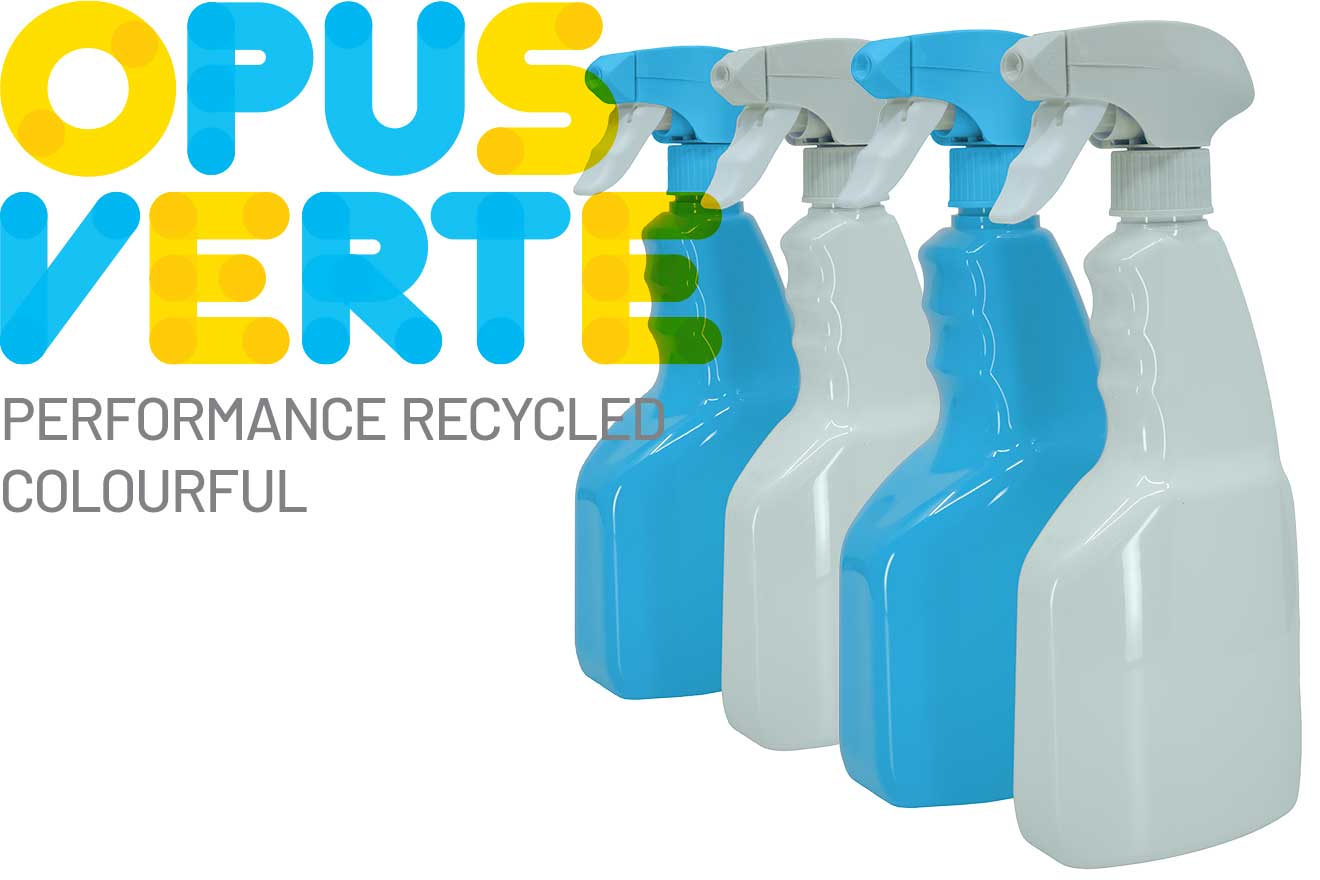 Sustainability oriented recycled trigger spray and rPET bottle duo.
The OpUs Verte is the only all plastic, pre-compression trigger sprayer, made of PCR-resin, which is available in multiple colours. The sprayer is developed to reduce overall virgin plastic resin consumption by at least 50%. Although being made with recycled plastics, the OpUs Verte maintains the same high performance you would expect. Most PCR based sprayers are available in black or dark grey only, however, OpUs Verte is available in various colour options, even in white. Now comes together with a 500ml or 750 ml rPET bottle companion option.
What are the benefits?
Made with PCR resin
Many colour variations available
Powerful pre-compression dispensing; premium spray & foam patterns, minimal fall-off, perpetually primed
Durable all-plastic construction
Continuous thread/screw-on and snap-on neck finishes available
Variety of spray and foam patterns available
Range of optional features including 360° spraying, labelling and passive venting
Certified child-resistant trigger sprayers in Europe and the United States
Multiple outputs available
Specifications for Opus Verte
Screw cap: 28/400, 28/410, 28/410 Ratchet, 28/410 Lock Cap, 28/DIN Cap, Snap-On CR / Snap-On Non-CR
Trigger sprayer construction: Recycled PP (PCR), PP, PE
Spray capabilities: Various Spray, Foam or Spray and Foam (depending on nozzle type)
Output: 1.2 ± 0.2 cc or 1.35 ± 0.2cc
Minimum order: White trigger caters for all order volumes. Coloured trigger requires a MOQ of 50,000.
Bottle companion specifications
Neck size: 28/410
Material: Recycled PET (rPET)
Volume: 500ml / 750 ml
Minimum order: 16,000